Team Impression
, a printing house based in Leeds, are celebrating their tenth anniversary with a year-long project called
Ten
, featuring ten 'articles and accompanying posters which are the result of collaborations between some of the world's most prestigious names in graphic design.'
The
third collaboration
for the Ten project is based on a setting of Henry Reed's "Naming of Parts" by the graphic artist and typographer
Pamela Bowman
, who co-founded the design studio
dust
in 2000. What began as a student project at Leeds Metropolitan University in 1995 was eventually published by Simon King Press in 1999 as
Lessons of the War: An Artist's Book
. In Bowman's design, the text of Reed's poem is presented on see-through stock, illustrating the dream-like, backward-and-forward qualities of the soldier's internalization of his lesson: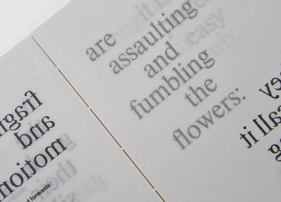 The renowned graphic designer and author
Ken Garland
calls Bowman's book 'a most sensitive and suitable use of translucent paper to convey the idea of parallel spoken and internal text.' Garland and Bowman discuss the work on Team Impression's
Ten webpages
, where you will see the poster that resulted from their collaboration. Links to purchase a limited, numbered edition of the A2 poster at the bottom of the page!