Here is a terrific find. I wish I could reproduce the exact combination of keywords which led me to this review in Google Books, but I can't. I was lamenting the apparent loss of the ability in Books' tools to be able to sort by date (instead of keyword relevance), and trying various combinations of "map of verona" and limiting "Any time" to a custom range of years, like 1946-1949.
Up pops this snippet from a post-war volume of the
Mercure de France
:

I was incredulous. It's obviously a contemporary book review of Reed's book of poetry,
A Map of Verona
(1946). But where was I going to find a library with a run of a French periodical?
Leave it to the Bibliothèque Nationale de France. They've digitized
Mercure de France from 1890-1954
.
I was a bit confused by the lack of issues from 1941-1946, but I realized if they weren't publishing during World War II, then the review must be in a later issue. I didn't have to search long. Searches in Gallica for "Henry Reed" were coming up empty, but I could see another review on the same page in the Google Books search. A search for "John Pudney" led me straight to the
issue for "1er janvier 1947."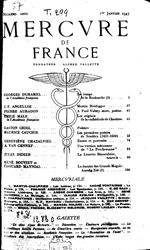 Here, under the section for "Grand-Bretagne" written by Jacques Vallette, is an entire article devoted to Aldous Huxley, and reviews of English language books. The books reviewed are:
Odhams Dictionary of the English Language (A.H. Smith, 1946)
Over to France (Pierre Maillaud, 1946)
La Mort et Demain (Peter de Polnay, 1946)
The True Story of Dick Whittington (Osbert Sitwell, 1945)
Thanks before Going (John Masefield, 1946)
The Merry Wives of Westminster (Mrs. Belloc Lowndes, 1946)
The Life of Oscar Wilde (Hesketh Pearson, 1946)
Selected Poems (John Pudney, 1946)
Theseus and the Minotaur (Patric Dickinson, 1946)
A Map of Verona
The Voyage and Other Poems (Edwin Muir, 1946)
Not only does Vallette compare Reed's themes of adventure and exploration to André Gide, but he says (and I need to work on this translation) Reed's poems "resonate in each of us the particular note of our sufferings, our attempts, our questions." Vallette even segues his review of Edwin Muir with a hark back to Reed: "Muir, as a mature man, expresses himself in a concise and more traditional way than Reed."
So, there: I finally have a non-English language book review for The Poetry of Reed site: "
Henry Reed in the Mercure de France
."