I have eight citations to articles written by or about Reed from the
Radio Times
, dating from the 1950s. Since the
Radio Times
is more or less the British
TV Guide
, I suspect there are a lot more references, but these are the only ones other folks have cited. (And one or two of them are suspect!)
So I wasted twenty or thirty minutes today, browsing online bookshops that deal in collectible magazines and periodicals. Even if they all don't turn out to contain anything of interest, it still wouldn't be entirely cheap to buy the issues outright. I'd rather have groceries.
My other option is to take a field trip to the Library of Congress in D.C., which is always productive, but a bit of an adventure for a hermit like myself. It would only cost me 20¢ per photocopy, and I would be able to peruse in relative leisure.
Photocopies are so sterile, though. Nothing like the feel of an old magazine: the brittle, yellow pages smelling warmly of neglected attics and dank basements.
The small treasure I found today was on the
WordAloud
website. WordAloud is a repository for information on radio broadcasts. They have airdates, synopsis, and credits for all sorts of BBC radio drama, including some of
Henry Reed's
. Hardy's "Battle of Trafalgar"? Never heard of it. Some
adaptation of The Trumpet Major
? "The Sergeant's Song"?
The prize among all these scraps and clues, was a clipping from a 1979
Radio Times
, listing the credits for Reed's (stereophonic!) re-working of his 1947 radio adapation of
Moby Dick
: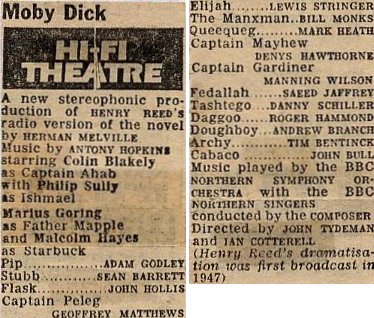 Update:
The London
Times
reveals that "The Battle of Trafalgar" was adapted for radio by Reed from Thomas Hardy's
The Dynasts
, which was orginally broadcast in its entirely as six ninety-minute episodes in June of 1951 (Savage, in
British Radio Drama
). Unfortunately, the
Times
was
on strike
at the time of the
Moby Dick
broadcast.