I had a dentist appointment yesterday, for a checkup and cleaning. I've discovered that the more I hate the dentist's office, the better I take care of my teeth. I was in and out, thankfully. I had a couple of hours afterward before Special Collections at the main library closed at 5:45 pm.
There was a reference to Reed in an old issue of the
New Review
(Google Book Search) that I was hoping would pan into something. The problem with snippet views in Google is that, while you may have a page number, you often don't know which issue of a periodical that page is in. Or the year. All I knew from the link above was that it was during 1976-77.
The
New Review
is apparently rare enough to warrant being stored in Special Collections' Rare Books. Rare, but not that old. Hardly new, though. I filled out my callslip for both years. Turns out,
New Review
was a monthly magazine, so I've got almost twenty-four issues to hunt through. Finally, at nearly five o'clock, I found it: June, 1976.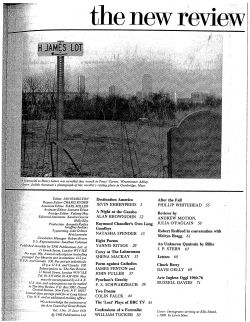 Reed appears in a book review of Scannell's
Not Without Glory
and Banerjee's
Spirit Above Wars
, by
Andrew Motion
, "Bard's Army." It was a long hour for a short paragraph:
Sexual deprivation also produced a persistent, nagging eroticism in military life Henry Reed captures its wearying innuendo perfectly in 'Naming of Parts', not only in the title, but in the training process it describes:
And this you can see is the bolt. The purpose of this
Is to open the breech, as you see. We can slide it
Rapidly backwards and forwards: we call this
Easing the spring.
Fuller similarly speaks with the voice of Everysoldier when he says 'The photographs of girls are on the wall', and the desolation which lies behind his remark is echoed throughout the work of Lewis. It is a far cry from the war poetry that they were brought up on, and a scrupulous account of the replacement of the admonitory patriot by the disaffected conscript.
Special Collections even made the photocopies for me.