Once upon a time, I had two fish: a pair of Bettas. Gandalf was a pale, blue-grey Betta who lived in a bowl in my office at work, and Saruman (it was the start of
The Lord of the Rings
movies. Hey, I didn't name them!), deep purple and crimson red, who had a magnificent, heated, ten-gallon tank all to himself on the bookcase at home. They were an impulse-purchase of a girlfriend and, along with the cat, rounded out our little menagerie.
As pets go, fish are low, low maintenance; and Bettas are tough as nails, but they don't last forever. By the time the
LOTR
trilogy had played out in theatres, both Gandalf and Saruman had gone to that big brandy snifter in the sky. For the fourth time in the fifteen years that I've owned it (rescued from my half-parents' Wunderkammer garage), my aquarium lay sterile and empty. Somewhere in the apartment is a box containing tiny, ceramic Greek ruins: Corinthian pillars and capitals.
When I described the sad sight of a barren, unused aquarium to a friend, lamenting the fact that I am, in fact, a dog person at heart, it was suggested that I use it instead to display books. Which are in no short supply around here.
So I rounded up my scattered collection of hardcopy Henry Reed-related material, and created a sort of memorial, print terrarium: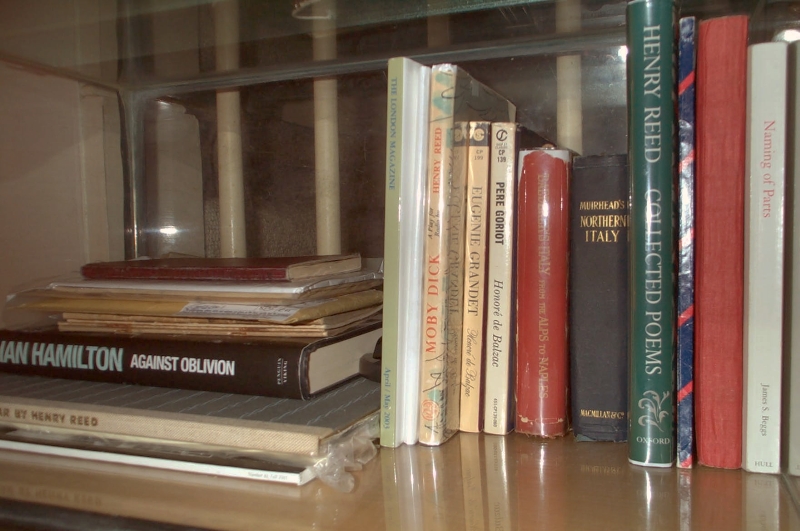 I own barely enough books on Reed to fill even half the aquarium. There's a couple of (relatively) recent journals:
Cartographic Perspectives
(Fall 2001), which contains an excellent article by Professor
Adele Haft
on Reed's use of maps and atlases in his poem "
A Map of Verona
," and
The London Magazine
(April/May 2003), with a reflective article by
Anthony Howell
on Reed's posthumously-published and lesser-known poetry. The rest are Reed's scant published works, and a few tangential and reference items. In my mania, I actually bought a couple of tourist guidebooks that Reed may have used during his several trips to Italy, containing the maps of streets through which his "thoughts have hovered and paced."
What's significant is what's missing: two volumes of Reed's radio plays,
The Streets of Pompeii and Other Plays for Radio
(BBC, 1971), and
Hilda Tablet and Others: Four Pieces for Radio
(BBC, 1971). The university library here in town has copies, so they've been low on my list of books to fill out my collection. But now, taking a good look at my sad, half-empty aquarium, I think I'm ready to make room for them. Maybe I'll add a "wishlist" to the blog, or even incorporate as a nonprofit — the Friends of the Henry Reed Terrarium — and set up a PayPal account to accept donations.