Aphorism: Everyone at Library of Congress is working on something more interesting than you. Everywhere I went — the elevators, the halls,
Photoduplication Services
— people were talking about their research, and each topic was infinitely more exciting and erudite than my little project.
In the elevator, there was a gentleman who casually mentioned his dissertation was on race relations in an exotic country during some dimly-remembered century. At the photoduplication desk, it was a lady who was ordering full-size copies of pages of the London
Times
, to be shipped to a friend in New England. And in the Adams reading room, an affable fellow across the table was impatiently awaiting a journal containing an article concerning
cellular automata
(Wolfram's
A New Kind of Science
was recommended as a starting point).
Myself? I had travelled several hours by car and by train to make copies of old t.v. guides.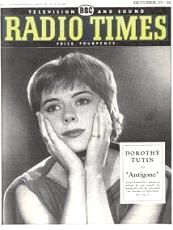 Well, okay. Not actual
T.V. Guides
. I was looking for issues of the BBC's
Radio Times
which immediately preceded broadcasts of Henry Reed's radio plays. I had seen few, scattered mentions of articles written by or about Reed, notably in Roger Savage's unrivalled chapter in
British Radio Drama
(Drakakis, ed., 1981); The Diversity Website's
"Henry Reed radio drama"
page; and poking around the inventories of
dealers in rare back issues
of U.K. magazines.
The Library of Congress is a venerable institution. Venerable and inveterate. Waved through metal detectors by uniformed security (please place your cellphone on the X-ray machine's conveyor, not in the plastic bin with your keys), you must shed your coat and bag at the cloakroom, and proceed to the reading rooms without the benefit of the protective layers to which you are accustomed, a naked scholar. You fill out your slips requesting your obscure volumes, and the desk attendant roughly crams them (along with everyone else's) into a small brass cylinder about the size of can of tomato paste. The cylinder disappears into a pneumatic tube and is
whoooshed
away into the bowels of a national library that occupies three city blocks. Now you have about an hour to study and memorize the intricately carved and muraled ceilings (you notice a predominant theme on owls), near the end of which you will suddenly realize that you failed to fill out a slip for the single volume on which your day's research will hinge. Then you will hear a distant rumble, a shudder or deep vibration — like the building is directly under the landing path of an international airport — and an ancient dumbwaiter bearing the immovable weight of your books rises, rises behind the counter, and in a moment, the attendant bears them lovingly to your desk. He makes two trips. Some of the resulting .pdfs:
"Captain Ahab and the Great White Whale."
(
Moby Dick
).
"The Prisoner in the Palazzo."
(
The Unblest
).
"Did Shakespeare Go To Italy?"
(
The Great Desire I Had
).
"Homage to Dame Hilda — Or Swann's Way."
(
Musique Discrète
).
I learned a few things: 1) Reader Identification cards expire every two years. 2) At the cloakrooms, you can request a clear, see-through, plastic bag to tote around your notes and pencils and photocopies without being a security risk. They won't let you in the reading rooms with an accordian file or manila envelope. 3) If you are unsure about the library's run of holdings for a certain periodical, put in requests for your earliest and most recent cites first. See what comes back. 4) The
Folger Shakespeare Library
is right next door to the Adams building. You can put in your book requests and while away the hour's wait worshipping before a
First Folio
. 5) Smoking is not allowed anywhere within 50 feet of federal buildings. An ashtray is located approximately 51 feet from the entrance to federal buildings. 6) There is nothing more mysterious and heartbreaking than having your original request slip returned with an X in the dreaded "Not on Shelf" box. Not on shelf? Why? Was it something
I
did? Something I said? Where is it? It could be many places, but it was decidedly not on the shelf where it resides when it is. On the shelf. And 7) The
Washington Monument
is huge. It's 554 feet tall. Standing just outside the main entrance to the Madison building, in the shadow of the U.S. Capitol, the obelisk looms on the horizon, seemingly just a short stroll away. It's not. It's a mile and a half, with a backpack full of books and index cards and $20.00 worth of photocopies, warm as newly baked bread.
(Read
Part I
....)