Periodically, I browse listings for used (and sometimes rare-ish) books on
AbeBooks.com
, looking for items by, or relating to, Henry Reed. My best find, I think, was turning up Reed's personal copies of
Moby Dick
and
Tristram Shandy
at a used bookstore in Birmingham, UK.
An amazing new treasure has appeared for sale, but one that leaves me conflicted as a poor, armchair researcher: a listing for a presentation copy of William Plomer's second collection of poems,
The Family Tree
(London: Hogarth Press, 1929), inscribed on the front endpaper to Henry Reed. These are the relevant parts from the bookseller's description: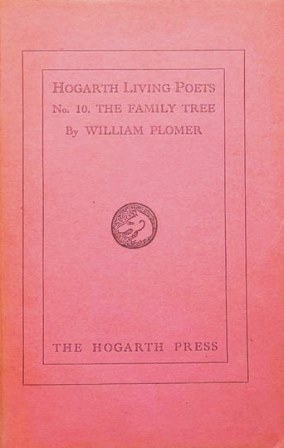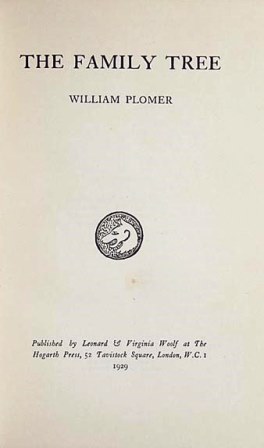 [
Stock images.
]
Presentation Copy from the author to Henry Reed. 8vo. orig pink paper-covered boards printed in black, 106 pp. + "advertisement" (i.e. excerpts from reviews) page "of Mr. Plomer's Previous Volume of Verse, Notes for Poems"... First edition, limited to 400 copies, Leonard & Virginia Woolf at the Hogarth Press, London, 1929. This is a very special copy, inscribed to Henry Reed from William Plomer on f.e.p. William Plomer has also made some important alterations to text in purple pen with another long inscription on blank p.10 commenting that he will not reprint "The Family Tree" as it is of no interest as poetry... A wonderful unique copy. William Plomer CBE, 1903-1973, poet, novelist, literary editor; editor of some of the James Bond books for Cape, and librettist for Benjamin Britten.
Reed and Plomer didn't know each other at the time the book was published, in 1929. If had to wager, I'd guess Plomer gave the book to Reed sometime between 1945 and 1949. Durham University Library has
11 letters from Reed to Plomer
from during that time. Reed mentions having read Plomer's autobiography,
Double Lives
, in 1946, and reviewed an edition of Melville's
Billy Budd
in 1947 with an Introduction by Plomer. Plomer was a reader at
Jonathan Cape
in London, and was probably responsible for getting Reed's
A Map of Verona: Poems
published in 1946.
The bookseller is in Knighton, Wales, west of Birmingham, so the book has stayed in — or drifted back to — Henry Reed country. It is, indeed, a "very special," "wonderful unique copy," but the asking price gives me pause, however, as it's about the same amount as a month's rent for me. It would, however, give me a third book from Reed's personal library, which would be pretty exciting.