Beginning in 1973 when he was 59 years old, the
Times
(London) included Henry Reed in the daily birthday announcements, in their "
Court and Social
" page. This continued up until his death, in 1986, at the age of 72 (with the exception of 1979, when the
Times
was in the midst of a year-long
newspaper strike
). In honor of the 95th anniversary of Reed's birth, here's his announcement from February 22, 1985: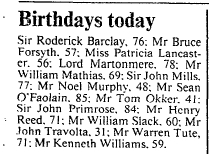 (John Travolta's birthday, we note, is actually Feb. 18!) If you're interested in such things, you can see a list of folks born on
February 22nd
on Wikipedia.