Finally, I have a contemporary review of Henry Reed's debut book of poems from 1946, by a critic who should need no introduction: a
World War I poet
; the editor of John Clare, Wilfred Owen, and Ivor Gurney; the "true cricketer":
Edmund Blunden
.
Blunden's review comes from the July, 1946 issue of
The Bookman
. In scouring the
Internet Archive library
for references to Reed, we unexpectedly find an entry in
A Bibliography of Edmund Blunden
, by B.J. Kirkpatrick (Oxford: Oxford University Press, 1979), on page 458, for "Poets and Poetry":

In this two-page, whirlwind summation, Blunden reviews no fewer than ten books of verse, devoting a paragraph to each:
Thanks Before Going
, by John Masefield;
Collected Lyrical Poems
, by Vivian Locke Ellis;
The Sand Castle
, by Claude Colleer Abbott;
Beowulf
, translated by Gavin Bone;
The Voyage and Other Poems
, by Edwin Muir;
Poems
, by Jonathan Wilson;
This Way to the Tomb
, by Ronald Duncan;
Peter Grimes and Other Poems
, by Montagu Slater;
Old Man of the Mountains
, by Norman Nicholson; and, of course,
A Map of Verona
, by Henry Reed.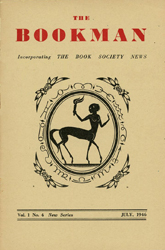 Blunden holds Muir, Wilson, and Slater in high enough esteem to quote a few stanzas. As for Reed, Blunden reproduces no lines, but he does have this to say:
A group of poems entitled 'Lessons of the War' strikes me as being the most expressive part of Mr. Henry Reed's book. He also has his poems on subjects of ancient fame, such as 'Philoctetes,' but they do not announce his originality so boldly as the pieces mentioned, which have captured something of the time-spirit and ambiguity of the recent war in a style of wit and deep feeling united.
This is high praise for the original, three-part sequence of Reed's war poems: "Naming of Parts," "Judging Distances," and "Unarmed Combat." Especially high coming from Blunden, a WWI veteran and survivor of the Somme and Ypres. For certain, these are the poems which cemented Reed's reputation and continue to this day to keep him in the Canon. If Blunden could only spare a a few lines for Reed, this paragraph speaks volumes.