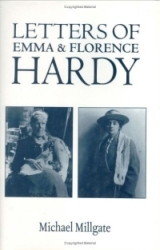 A heartbreaking turn of events appeared this evening, in Michael Millgate's
Letters of Emma and Florence Hardy
(Oxford: Clarendon, 1996). In a letter dated December 7, 1936,
Florence Hardy
(then aged 57) mentions 'A young man from one of the universities visiting me a few weeks ago said that all the stories one heard were amusing yet the time might come when the nation would be tired of a comic Royal Family.' Millgate notes this "young man" was none other than Henry Reed. In 1936, Reed had graduated with an MA from the University of Birmingham, and he was compiling material and interviewing contemporaries for his planned biography of Thomas Hardy.
Later, Millgate produces a letter to Reed from Florence Hardy:
To Henry Reed




max gate, | dorchester, | dorset.
25th Dec. (1936)


Dear Mr. Reed,

I have been thinking very long & seriously about the book we discussed when you were here, and the more I think about it the more impossible it seems. My own memory is not good & becomes worse & worse, & probably I have exaggerated in my own mind much that was told me, &, as for Miss [Katherine "Kate"] Hardy, she is an old lady in bad health, who has, during the last days lost her nearest surviving relative [cousin Polly Antell] & she will not see any stranger, nor will the doctor allow her her to do so. Moreover she would refuse to discuss any member of her family with anyone. It is possible that I built up a great deal on a few careless remarks from prejudiced persons. I should be very sorry to put into print more than is in my biography as there is not a scrap of documentary evidence to go upon.

Also, with regard to a stage version of 'The Dynasts'—I find that my husband left very special instructions about that, & any performance by amateurs, except the O.U.D.S [Oxford University Dramatic Society], is prohibited. I am sorry to be so negative on both these points, but I hope you will understand.

With seasonable wishes,


Yours sincerely,
Florence Hardy.
Reed's literary hopes and dreams were swept away in the span of two small paragraphs. According to Millgate's notes, the project Florence deems "impossible" was a biography of Thomas Hardy which Reed had suggested, to be based on his conversations with Florence and Hardy's cousin Kate. And apparently Reed was also hoping to adapt Hardy's epic verse-drama on the Napoleonic Wars, "The Dynasts," into a stage play, perhaps for the Highbury Little Theatre group, in Birmingham.