I thoroughly enjoyed the first half of the new BBC production of Thomas Hardy's
Tess of the d'Urbervilles
, which aired last night on PBS Masterpiece. This adaptation stars the enchanting Gemma Arterton as Tess, and Hans Matheson as Alec D'Urberville.
I was seriously distracted, however, at the opening of
Chapter 12
, when the camera pans up from a bunch of Japonica in bloom, trained along a garden wall: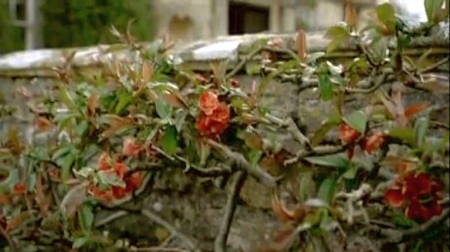 The shrub appears again, at the side of Mr. Clare (played by Kenneth Cranham) and son Angel (Eddie Redmayne), as they leave Emminster parsonage (I must be the only dude on the Internet taking screencaps which do not feature Gemma Arterton):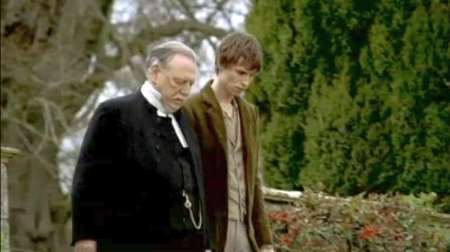 Fancy that, I thought. Henry Reed has taught me horticulture! The flower is definitely
Chaenomeles
, the Japanese Quince—probably
Speciosa
, or another ornamental variety—referred to commonly as Japonica. Filmed in early spring, March or April, at
Hamswell House
, South Gloucestershire.
You can catch up on the first half of
Tess at PBS.org
. The program concludes this Sunday evening, January 11th.