Re-entering the time machine that is the
British Newspaper Archive
, I have turned up another couple of early book reviews by Henry Reed, in his hometown
Birmingham Post
during 1944 and 1945. Here, Reed reviews the posthumously published "last" poems by Laurence Binyon (
December 27, 1944
, p. 2), including the titular "
The Burning of the Leaves
," written during the London Blitz:
"They will come again, the leaf and the flower, to arise
From squalor of rottenness into the old splendour.
And magical scents to a wondering memory bring;
The same glory, to shine upon different eyes.
Earth cares for her own ruins, naught for ours.
Nothing is certain, only the certain spring."
Interestingly here, Reed refers to the ongoing war as "a second Great War": a war he was still enduring in 1944, working in the Japanese section of Bletchley Park.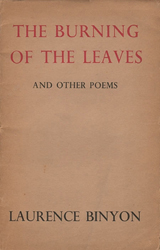 Binyon's Last Poems


---

The Burning of the Leaves. By
Laurence Binyon. (Macmillan. 2s.)


By Henry Reed


Some enterprising readers will already know the five poems which give this superb little book its title; they appeared in "Horizon" in October, 1942, under the title of "The Ruins." Some will also know the exquisite "Winter Sunrise," which appeared in the "Observer" shortly after Binyon's death. This book includes variant readings for "The Burning of the the Leaves," and a draft, including some fragmentary passages, of the unfinished next section of "Winter Sunrise." Binyon's habit in composing, we are told in a foreword, "was to start by jotting down isolated lines or parts of a line and to cover pages with these, repeating, correcting, expanding and revising, and so gradually shaping the whole poem." It is always interesting to see how different poets work; when the poet has Binyon's sincerity and feeling and power over words, this becomes a most moving experience.

"The Burning of the Leaves" is among the most beautiful of modern poems. It is a tragic poem, for the war—a second Great War—provides its background; but it has classical control and mastery, a magical use of its imagery, and a calm finality which, among contemporary poets, are to be found elsewhere only in Mr. T. S. Eliot's latest poems. There are other poems in the book which few readers can fail to love: "The Cherry Trees" and "The Orchard" have a perfect clarity, delicacy and lightness which show something of what Binyon learned from the Orient.