Almost two years ago, I was trying to settle the source of a strange quote attributed to a "Sir Henry Reed," regarding the nursery rhyme, "
Hey Diddle Diddle
." The quote, which appeared in two journal articles about Mother Goose, is as follows: 'I prefer to think that it commemorates the athletic lunacy to which the strange conspiracy of the cat and the fiddle incited the cow.'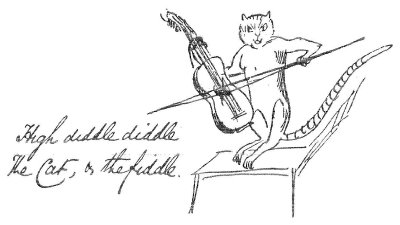 I finally tracked down the original source of this quotation in vol. 117 of the series
Children's Literature Review
(Tom Burns, ed. Detroit: Thomson Gale, 2006. p. 60), which reprints a 1955 review by Clifton Fadiman of
The Oxford Dictionary of Nursery Rhymes
, edited by Iona and Peter Opie (1952).
Going to the Opie's text, I discover that the
Children's Literature Review
misprints the attribution as "Sir Henry Reed." The 1952 and 1997 editions of the Oxford volume (which are identical in this section) have 'The sanest observation on this rhyme seems to have been made by Sir Henry
Reid
'.
The double error of including the honorific "Sir" and the misspelling "Reid" leaves me to believe this is probably not our Henry. It seems more likely attributable to Sir Herbert Read, or to another Sir, altogether. And, actually, since Read wasn't knighted until 1953 and the Oxford edition was published in 1952, we are probably looking for some witty 19th century gentleman.
This was made possible using Gale's
Literature Criticism Online
, a database which provides access to ten collections of literary criticism, including
Contemporary Literary Criticism
,
Poetry Criticism
, and
Twentieth-Century Literary Criticism
, as well as
Children's Literature Review
. Access to Gale's databases is provided by many public and university libraries.