An excellent find in the series
Poetry Criticism
: in the entry for Randall Jarrell is a reprint of a 1948 review by Stephen Spender of Jarrell's collection
Losses
, from
The Nation
(1 May 1948). The collection contains many of Jarrell's famous poems which came out of his experiences in the Army Air Force during World War II, including "The Dead Wingman," "Pilots, Man Your Planes," and "
Eighth Air Force
."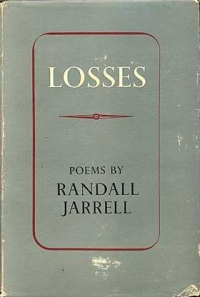 Spender compares Jarrell to Robert Lowell, calling him a "modern" poet in a "certainly" American landscape; but he also compares his language to the Victorian poets:
Mr. Jarrell often reminds me of Tennyson and Browning. Or rather this will not seem strange if I quote from "Orestes at Tauris," which is a long, odd failure, merging into the language of prize poems with which the English Victorian writers once took the stage:
So he looked; and yet in all that press
At Argos or Mycenae, or in all the isles
You never saw her like: a face so fair!
She wet your hair, and smoothed it with her hands,
Water ran down your face, and it looked pale
Under those dark and darkening locks; you shook them free,
And how ghastly it looked—your pale anxious face!
This is Victorian Prize Poetry with a big V and two big P's, and to judge from Mr. Jarrell's remarks about Henry Reed when he does the same thing considerably better, I cannot believe Mr. Jarrell likes it himself.
"Considerably better!" Spender is, of course, referring to
a dismissive review
of Reed's
A Map of Verona and Other Poems
in
The Nation
just a month earlier, in which Jarrell compares Reed to "a nap after dinner."