Happy Labor Day, comrades! I am enjoying a much-needed day off, despite the university being in full session, as classes began only last week. I worked twelve days in a row (plus a Pleasant Valley Sunday), and today I get to celebrate the fruits of that labor. I've been trying to get caught up on items which I copied or collected over the summer: tidbits,
hors d'oeuvres
, and appetizers, mostly; mentions, blurbs, and anthologies.
Two items come from the serial
British Book News
, a monthly collection of reviews of new books, put out by the
British Council
between 1941 and 1993 as a purchasing guide for schools and libraries.
The earliest entry for Henry Reed appears to be from
July, 1946
(.pdf); a recommendation for Reed's poetry collection,
A Map of Verona
:
a map of verona. Henry Reed.
Cape
, 3s. 6d. lC8. 60 pages.
The first book of a distinguished poet and critic. Stylistically, Mr. Reed is considerably influenced by the later manner of T.S. Eliot. In the title poem he muses over a map and its literary and historical associations; in 'Tintagel' he evokes memories of Tristram and Iseult in the ruins of the castle; the more Tennysonian 'Philoctetes' and 'Chrysothemis' take the reader back to the ancient Greek world. There is also an ironical section, 'Lessons of the War'.
(p. 276-277)
Later (much later), in the
British Book News
for
February, 1972
(.pdf), we find an announcement for the publication of Reed's twin collections of BBC radio plays,
Hilda Tablet and Others: Four Pieces for Radio
, and
The Streets of Pompeii and Other Plays for Radio
(1971):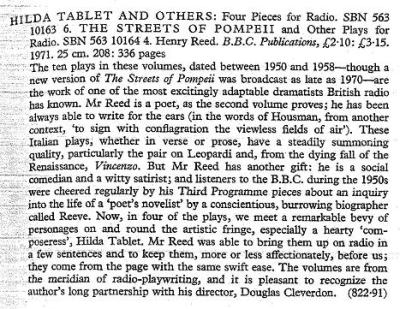 (p. 153)
The Housman quote, while a lovely sentiment and excellent metaphor for radio, is gotten slightly wrong. It should be 'They sign with conflagration /
The empty moors of air
' (Google Book Search). (I'm not sure where "viewless fields of air" is lifted from. The earliest I can find is in
The Memoirs of Carwin the Biloquist
, serialized by Charles Brockden Brown between 1803 and 1805.)
Reed also appears in
British Book News
for his pamphlet of criticism written for the British Council,
The Novel Since 1939
(1946).