Over on Yahoo! Music, I was shocked to find available, free for listening, all 118 poems from the album
Best of Second World War Poetry
(CSA Word Recording, 2007). Read by Rosalind Ayres, Phil Collins, Barry Humphries, Martin Jarvis, and Richard Todd, the anthology includes poems by Roy Campbell, Keith Douglas, Gavin Ewart, Sidney Keyes, and Terrence Tiller.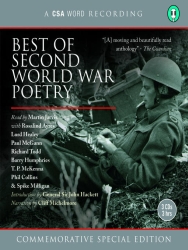 Reed is, of course, represented by the ever-present "
Naming of Parts
," read by the actor
Martin Jarvis
.
Individual tracks, or the entire album, are available for
purchase from Rhapsody
, and the Commemorative Special Edition CD set (shown above) is on the
CSA Word
website.