Omnibus now presents a new film by
Ken Russell
:
Dance of the Seven Veils
. It's been described as a harsh, and at times, violent caricature of the life of the composer
Richard Strauss
. This is a personal interpretation by Ken Russell, of certain real—and many imaginary—events in the composer's life. Among them are dramatised sequences about the war, and the Nazi persecution of the Jews, which includes scenes of considerable violence, and horror.
I have
mentioned previously
Reed's final foray into television: in 1969 he delivered a preliminary screen treatment on Strauss, but it was clear that director Ken Russell was not interested in filming a straight-up, chronological biography. Instead, it would be "all dancing and no acting." Unbelievably, Reed still shares credit for the script and scenario: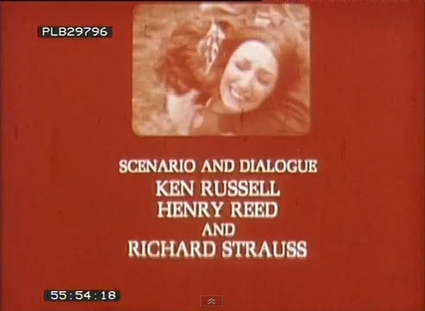 (Via
Wonders in the Dark
.)