Here's a nice little piece of pop culture, which is not only a good laugh, but a good gauge of where Reed stood in the public eye in his later life. The
New Statesman's
reader competition for June 22, 1973:
Weekend Competition
No 2,261
Set by Young Werther
To revert to an old joke-form ('If Lee Marvin married the Princess Lee Radziwill would he be known as Lee Marvin-Lee Radziwill?'), it would be intriguing to know whether, if Beatrice Webb had been around to marry Michael Foot, she would be known as Beatrice Webb-Foot, or if Grace Wyndham Goldie had married D. B. Wyndham-Lewis, she would have been known as Grace Wyndham-Goldie-Wyndham-Lewis. Competitors are asked to supply up to five such examples. Entries by 3 July. (Real names only)
And the results, published on July 13:
Result of No 2,261
Report by Old Goethe
The same couples came up with surprising and rather disappointing frequency. Too many Brown-Windsors, with only John Fuller providing a plausible explanation; too many Virginia Woolfs and J. M. Whistlers, Grace Darlings and W. G. Graces, Billie Jean Kings and Bobby Fischers, and nothing quite on par with the legendary match between Tuesday Weld and Frederic March's eldest boy (she'd have been Tuesday March 2nd). Under the circumstances, it seemed sensible to bend the rules somewhat. £1 for each of those printed.
Those printed included:
If Maude Gonne could have married Richard West, would she have been known as Maude Gonne-West?


Brenda Rudolf


If Ellen Terry could have married Dylan Thomas, would she have been known as Ellen Terry-Thomas?

If Margaret Drabble married Sir Leonard Gribble, would she be known as Lady Margaret Drabble-Gribble?


Jedediah Barrow


If Gladys Hay married Ronald Biggs, divorced him and married Stephen Spender, would she be known as as Gladys Hay Biggs Spender?


Lee Woods


If the future Mrs Bernard Levin married W. H. Auden after her divorce, and after that divorce married Sir Alfred Ayer, would she be known as Lady Levin-Auden-Ayer?


Arabella Wittgenstein
And the entry which caught our attention:
If Mai Zetterling married and divorced in succession Prof. F. R. Leavis, Freddie Laker, Oliver Reed, Henry Reed, and Prof. Richard Rose, would she be known as Mai Leavis-Laker-Reed-Reed-Rose?


Huw Jones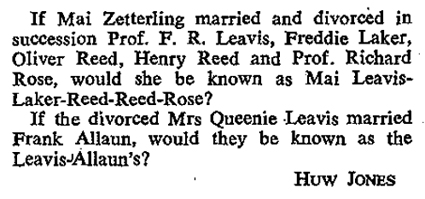 Mai Zetterling
was a Swedish-born actress;
F.R. Leavis
was, of course, a distinguished literary critic;
Frederick Laker
was an airline entrepreneur;
Oliver Reed
played Athos in
The Three Musketeers
and should need no introduction; and
Richard Rose
is an American political scientist who has taught primarily in the UK, and has a
CV as long as my arm
. The pun is a
play on Burns
, and I had to sound it out, twice.