Is this the humble beginning of Henry Reed's writing career with BBC radio?
Roger Savage, writing in the book
British Radio Drama
(1981), says Reed's first original writing for radio was a 1946 piece called
Noises
, produced first in a fifteen-minute version for an interlude between programs, and then extended to a full half-hour. Martin Armstrong, in
The Listener
, described the piece as
a short essay on the psychology of noises in which noises were used to play, wittily and suggestively, on the imagination of the listener (November 28, 1946).
British Radio Drama
includes a bibliography of Reed's radio plays and the dates of their premieres—
Noises
is listed as having first aired on the BBC on March 4, 1946: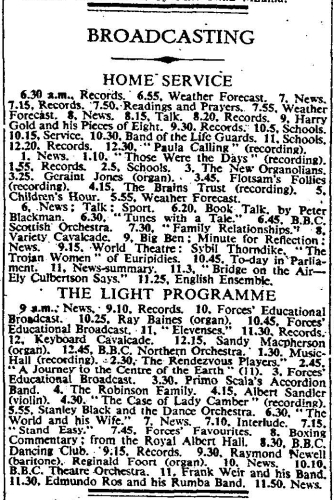 As you can see, the only "Interlude" scheduled is a five-minute break on the Light Programme at 7:10 p.m., although there is a fifteen-minute "Forces' Favourites" at 7:45 which could be a candidate.
The extended version of
Noises
which Armstrong reviewed for
The Listener
was broadcast later that year, on November 18, 1946, at 6:00 p.m. By that time, the Third Programme had been created, and the piece had earned a subtitle (as many of Reed's plays would) "A satirical programme":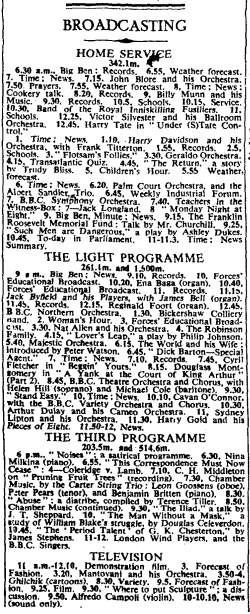 Unfortunately, in some books the play is also listed as
Noises On
(as in the opposite of "noises off-stage"), and the longer version as
Noises—Nasty and Nice
, causing me all sorts of difficulties in searching and pinning down dates and times.