In the early months of 1958, the BBC Third Programme repeated the entirety of Henry Reed's sequence of Hilda Tablet plays—beginning with a 1953 recording of
A Very Great Man Indeed
—in anticipation of Reed's latest (and advertised as the last, but ultimately the penultimate) entry,
The Primal Scene, As It Were.
Reed wrote a short re-introduction for the
Radio Times on February 7, 1958
, to give thanks and credit to the actors and musicians who brought the characters to life in his most famous and most listened-to of radio plays. He has special mention for
Hugh Burden
,
Mary O'Farrell
, the music of
Donald Swann
,
Carleton Hobbs
, and
Deryck Guyler
.
The Primal Scene
takes place in the Mediterranean, and if I remember correctly, is the result of BBC paying for Reed's holiday to Athens and Greece, in order to research an historical play set in ancient Mycenae.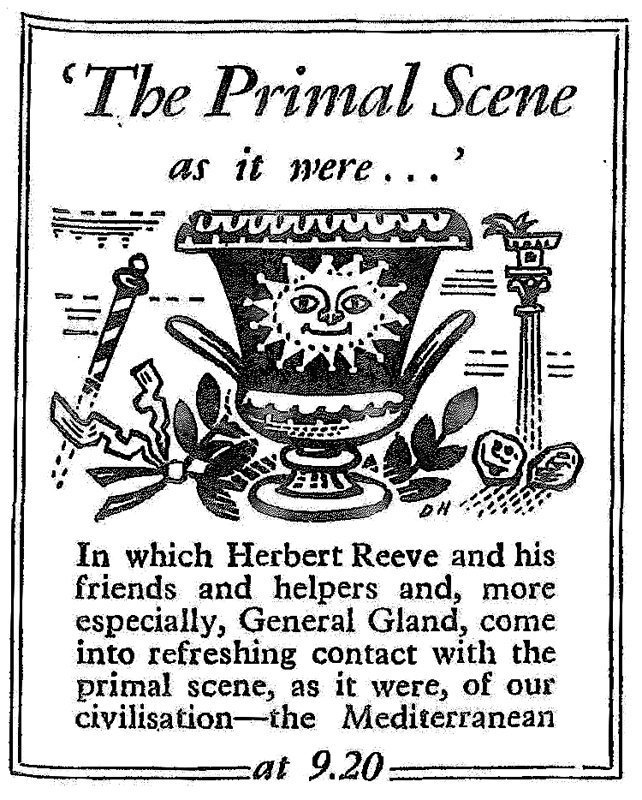 Without the Actors . . .

Beginning on Thursday with 'A Very Great Man Indeed,' the Third Programme is to revive all the Henry Reed satires. The author contributes this preface


I HAVE been told that there was once a Derby winner who was heard, in a moment of morbid self-questioning, to observe: 'Without the horse, I doubt if I could have done it.' I am not given to this kind of introspection myself and among the actors who appear in the Herbert Reeve scripts, there is none that resembles, in any respect, a horse. But I am bound to confess that the tormented jockey's remark always comes to my mind whenever people say that they have enjoyed these programmes, since, apart from the first script, A Very Great Man Indeed, they all derive directly from the performances of the actors.

I think all of us concerned with that early piece enjoyed doing it. But for some time after, I was myself so much haunted by the realistic and touching intensity with which Hugh Burden and Mary O'Farrell had enacted the scene at Hilda's piano that I found myself wistfully craving to know exactly what happened afterwards. This, and nothing else, led to The Private Life of Hilda Tablet. (The word 'composeress' has been objected to in connection with Hilda; but it seems an innocent enough counterpart to the word 'paintress.')

Hilda's music had been potently realised by Donald Swann. It was Mr. Swann's devotion to Hilda, his voluminous invention on her behalf, and a certain gleam that always appeared in his eyes whenever she was mentioned, that led to the programme about her opera, Emily Butter. It was by this time felt that more might profitably be said by Carleton Hobbs on the subject of Stephen Shewin. It was said in A Hedge, Backwards, which was billed as the last of the series, We had not however counted on Deryck Guyler's General Gland, who seemed to call for profounder acquaintance. This has led to a new programme The Primal Scene, as it Were . . . , which will be broadcast next month. I think I may safely promise that this will be the end of Herbert Reeve, The title is a quotation from the piece itself, and refers to the Mediterranean.