Novelist and biographer of Elizabeth Bowen,
Victoria Glendinning
, continues to provide new details of how Henry Reed was perceived by his contemporaries, and his visit to Ireland in the spring of 1946. I have
covered here, previously
, how Reed spent two weeks at Bowen's Court, Elizabeth Bowen's ancestral home in County Cork. Now, in a recent collection of letters and diary entries by Bowen and her long-time lover, Charles Ritchie,
Love's Civil War
(Toronto: McClelland & Stewart, 2008, with Judith Robertson), we are privileged to discover more about how Reed's visit came about.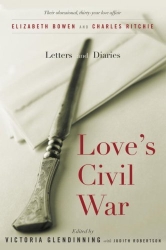 Star-crossed and married to other people, some context for Bowen and Ritchie's relationship is provided on the collection's front flap:
The love affair between the writer Elizabeth Bowen and the elegant and charming Canadian diplomat
Charles Ritchie
blossomed quickly after their first meeting in 1941 and continued over the next three decades until Bowen's death in 1973. Theirs was a passion that flourished in the heightened, dangerous atmosphere of wartime London that Bowen wrote about so vividly in her novels. When Ritchie's diplomatic career took him further afield — to Paris, Bonn, New York and Ottawa — the lovers wrote to one another continuously, sharing their hopes and fears, their boundless affection for one another, and their longing to be together again. Published for the first time in this exquisite volume, accompanied by extracts from Ritchie's remarkably candid diaries, the love letters of Elizabeth Bowen reveal a passionate, intelligent, eloquent, strong-minded and wonderfully funny woman. They also reveal a man bewitched by her writer's mind and imagination, and by her adoring vision of him as a greater man than he ever felt himself to be.
More details about Bowen and Ritchie in this
Guardian review
.
Henry Reed and Michael Ramsbotham traveled to Ireland in the spring of 1946, to celebrate Ramsbotham's demobilization from military service. While it's unclear if they traveled separately, or if perhaps Ramsbotham was already in Ireland at the time, in Bowen's letter we find Reed alone in Dublin, when he inquired if he might pay a visit. Bowen was already aware of Reed, as he had reviewed her collection of short stories,
The Demon Lover
, for
The New Statesman
in November of 1945. Bowen wrote to Ritchie:
Bowen's Court, Kildorrey, Monday, 20th May 1946
My darling....
The world of letters has followed me here in the person of Henry Reed, one of those young men who write for the New Statesman. He was staying in Dublin and asked if he could come here. He is one of those fascinating homosexual characters, and a very good poet — has just published a book of poems called
Map of Verona
. He comes from Birmingham and is of lower-middle-class origin, but has romantic aristocratic views. His boy friend, a gentle creature whom I met in London, is lurking in some other part of Ireland, waiting about for him, so I said he had better come here too: they had had some notion of a tryst in Killarney, but Henry did not seem very enthusiastic about that, and as he evidently prefers to stop here I think he had better have his friend with him. He is very good company (I mean Henry) and does not interfere with me, as he regards it as essential that I should get on with my novel. So if the boy friend, who is at present preserving a moody silence, can be traced, they are to forgather here. I wish I had Anne-Marie's [Romanian Princess Callimachi, in exile] passion for intervening in masculine love affairs, but I haven't.[...]
Love from E.

[p. 91]
So, Bowen was already acquainted with Ramsbotham, as well! And we see what might be construed as the beginnings of civil war in Reed's relationship with Ramsbotham, which would only last until 1950. At the time of this letter, Bowen was writing
The Heat of the Day
(London: Jonathan Cape, 1949), her novel on wartime London.
In addition to her work on Bowen, Victoria Glendinning has published biographies on Vita Sackville-West, Edith Sitwell, Jonathan Swift, Anthony Trollope, Rebecca West, and Leonard Woolf.
Love's Civil War
has just been re-released in paperback.