When an anecdote turns out to be more amusing than accurate, I will usually grant points just for sheer entertainment value. Such is the case with this humorous aside, which appears in Reed's entry in the
Encyclopedia of British Writers
(New York: Facts on File, 2003). Funny as it may be, it unfortunately perpetuates Reed's reputation as having written only one poem worthy of remembering:
After World War II Reed published
A Map of Verona
(1946), a book of poetry in five sections. The section called 'Lessons of the War' contains poems based on his brief and unsatisfying experience in the army. One of these poems, '
Naming of Parts
,' became widely anthologized and so well known as an antiwar poem that it made Reed famous as a one-poem poet and overshadowed his other work. (On being introduced to him, a person would usually say, 'Oh, Mr. Reed, I've read your poem.')
Now, I was curious as to where this chestnut may have originated; I didn't recognize any of the editors of the encyclopedia, and it appears rather suddenly in the fossil record. Another quick search of Google Books turns up a previous appearance, in
Elements of Literature, Sixth Course: Literature of Britain
(Austin, Texas: Holt, Rinehart, and Winston, 1993):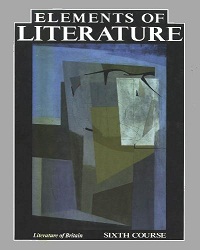 Henry Reed was born and educated in the industrial city of Birmingham. As an adult, he served in the British army and the diplomatic corps. He then began a career as a journalist in London, where he was well known for his wit and satirical imagination. More limited in output than any other significant poet of his generation, Reed's fame rests entirely on a single work. Constantly anthologized everywhere in the English-speaking world, 'Naming of Parts' has long been one of the staples of modern poetry. (The story goes that a faculty member, introduced to the poet for the first time, said, 'Oh yes, Mr. Reed, I've read your poem.') Excerpted from a longer poem published in Reed's first volume, A Map of Verona (1946), 'Naming of Parts' contrasts gentleness with rude actuality, the voice of a man of action with the musings of a dreamer. In the process, it transcends the fact that, in spite of its Cockney lilt, the language of most of the poems is as flat as the prose of a training manual.
That's a lovely summation, and apparently the source for the story's appearance in the
Encyclopedia of British Writers
. The
Elements of Literature
series was edited by
Robert Anderson
(1917-2009). Anderson was a playwright and screenwriter, best known for his 1953 play,
Tea and Sympathy
, which was produced as a
feature film
in 1956, starring Deborah Kerr ("Years from now when you talk about this—and you will—be kind"). Anderson would seem to be a reputable source, so I'll go ahead award him the points he's due. I wonder who the offending faculty member may have been?