Last September, I
mentioned
discovering a letter to Henry Reed in the collection of Oscar Williams' correspondence at the Lilly Library in Indiana. The letter was from Henry J. Dubester, and was among a group of letters addressed to British and American poets, including Auden, William Empson, Frost, Roy Fuller, Archibald MacLeish, Roethke, and Stephen Spender (amidst many others). I wondered, at the time, what Mr. Dubester was doing, writing to so many prominent poets?
Not long after, I received an e-mail from none other than Henry Dubester, himself, which answered my question. Mr. Dubester informed me:
I was promoted and served as Assistant and then Chief of the General Reference and Bibliography Divisions of the Library of Congress. The Poetry Office was one of the sections of the Division. The Library also had a recording laboratory where recordings were made and preserved of many individuals, including poets. I had the opportunity of compiling a set of records with a selection from those recordings. Oscar Williams was my consultant who advised me on the selection. Following his advice, I contacted the poets and solicited their permission to include the text of their recorded poems with the (3) record album.
Mr. Dubester is referring to the Library of Congress Recording Laboratory's
An Album of Modern Poetry: An Anthology Read by the Poets
(1959), a set of recordings of the best 20th-century poets reading from their own work, edited by Williams.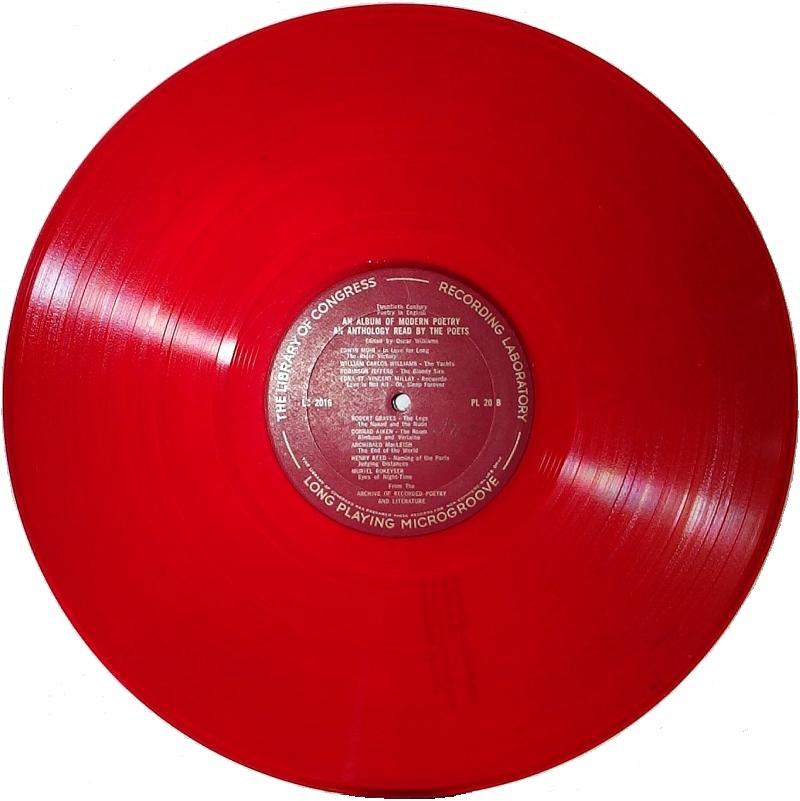 My library actually owns these records, although I had to request them from the storage facility where they cache the more outdated or under-utilized materials. The library also possesses a spectacular media lab of its own, replete with soundproofed recording booths stuffed with just the right gear for analog-to-digital conversion. Which is? An ancient turntable plugged into a Mac.
So I snuck away for an hour today, and lifted the tracks of "Naming of Parts" and "Judging Distances" from Williams'
Album of Modern Poetry
. The boxed set is three 12", 33 1/3 microgroove LPs, pressed into a vinyl the color of which there is no word for in English ("vermillion" does not adequately convey the records' ethereal translucence).
As Mr. Dubester promised, the set includes a wonderful, 41-page printed anthology of the poems being presented by their authors, as well as an introduction from Oscar Williams on the box. And, I did enjoy a wonderfully surreal moment, when I heard Conrad Aiken's voice booming from the lab's speakers, repeatedly referring to Rambo, Rambo, Rambo, before I realized he was talking about
Rimbaud
. But, enough.
'This is Henry Reed, reading selections from his poems':
"Naming of Parts"
(.mp3)
"Judging Distances"
(.mp3)