It's nice when the little things can still make you happy. The littlest of things. Thimbles. Banker's clips. Very small rocks. Or how about, let's say... the oldest citation for Henry Reed to appear in print?
The Bookman
("I am a Bookman." —
James Russell Lowell
) was a monthly literary magazine published in London by
Hodder & Stoughton
from 1891 until 1934. Essentially a catalog of their forthcoming books and publications, it also contained reviews, bibliographies, advertisements, and illustrations. Like most magazines of the time,
The Bookman
staged a continuous variety of writing competitions, inviting submissions on such varied subjects (some of which pertained to the issue in hand) as: "best original lyric"; "best epigram on an Income Tax Collector"; "best acrostic on the name of any author mentioned"; "best review, in not more than one hundred words, of any recently published book"; "best 14 lines of verse containing the largest number of examples from the winning list of hackneyed quotations from the competition in the previous number"; etc. Prizes for the winning entries ranged from half a guinea to up to a gift of three new books. Runners-up might be selected to appear in print.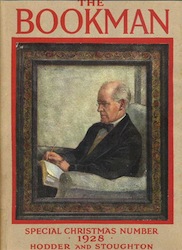 The October, 1928 issue included the following long-running competition:
A Prize of Half a Guinea is offered for the best quotation from English verse applicable to any review or the name of any author or book appearing in this number of The Bookman.
Winners were listed the next month, in November. The entry which received the half-guinea came from one B.M. Beard of Bexleyheath, Kent, with a
lyric from Ruddigore
by Gilbert and Sullivan: '...blow your own trumpet, / Or, trust me, you haven't a chance!' as it applied to the book
How to Secure a Good Job
, by W. Leslie Ivey (London: Sir I. Pitman & Sons).
And there, among the runners-up, receiving the consolation prize of being "selected for printing," is the submission of one Henry Reed of Erdington, Birmingham, chosen for his take on the title of André Alba's
The French Revolution
(London: Richards Press): 'If you can keep your head when all about you / Are losing theirs...'. Reed was fourteen years old:

"
Results of Competitions for October
,"
Bookman
75,
no. 446 (November 1928), p. 117.
This tiny portrait is exciting for several reasons: Reed was barely a teenager in 1928, attending
King Edward VI Grammar School
in Aston, Birmingham, and yet here he is, reading and following a London literary magazine, already adept at wordplay and pun construction. He would eventually win a 1941
New Statesman
competition calling for parodies of T.S. Eliot. Kipling's poem, "
If—
," was first published in 1910, and it quickly became (and still remains) not only Britain's favorite poem, but Britain's most-parodied poem. It must have been taught in every classroom and repeated at every recital during Reed's childhood. (See the terrific
digital collection for "If—"
at Dalhousie University, with images of both
broadsides
and
multipage editions
.) Finally, this is the only record I've found in print of Reed using the address of his
childhood home in Erdington
.
I had to look up the value of the prize, to see just how heartbroken Reed must have been when he lost the competition. Half a guinea was the equivalent of 10
s
6
d
, or 55p. It would have been worth about the cost of a brand new novel.