In 1966, when she was Visiting Professor of English at the University of Washington, Seattle, Elizabeth Bishop wrote to
Howard Moss
at
The New Yorker
to let him know she had thrown his hat into the ring to replace her. A respected poet and critic, Moss was
The New Yorker's
poetry editor for almost forty years, from 1950 until his death in 1987.
This is a great letter in that Bishop gives all the details of the professorship that both she and Henry Reed held: salary and responsibilities (previously a Visiting Professor, Reed had returned to UW as Lecturer in English). The letter appears in
Elizabeth Bishop and The New Yorker: The Complete Correspondence
, edited by Joelle Biele (New York: Farrar, Straus and Giroux, 2011).
The letter is dated February 22, 1966: it was Reed's fifty-second birthday. 'I think he is a beautiful poet, don't you?' Bishop writes.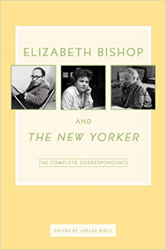 4135 Brooklyn Avenue NE
Seattle, Washington
February 22, 1966


Dear Howard:

Happy George Washington's birthday—& I presume this state was named for him . . .

This is just to ask you a question. I've been asked here to recommend poets for this job, and I wondered if by any chance you would consider it sometime. I have already given your name to Robert Heilman, the head of the English Dept. (& very nice, too), so he may even have written you by now for all I know, because he seemed to take to the idea. I had heard a rumour (I think from May Swenson) that you were leaving The New Yorker—or perhaps if not you could have a leave of absence.—You may not like the idea at all, but when they asked me about "poets" I thought of you. The Poet can come for one, two (like me), or three "quarters" and the pay is $7,000 a quarter—Which seems very good by my humble standards! That is $7,000 each ten weeks, more or less. There are only 2 small classes—15 to 20—and they meet for 50 minutes, supposedly 4 times a week but I have cut the writing class to 3 times a week. This part of the world, and the breezy western manner, and teaching, rather staggered me at first— but now I am beginning to enjoy most of it except the classes —but then you did teach before, didn't you? [handwritten: "They are very nice to one, too—"]

Well—I am not urging this on you! I just thought I'd explain how it came about, in case you do hear from Mr. Heilman or a Mr. James Hall . . . Also—one is a full professor for the term, because Roethke was. One does feel a bit like his ghost, of course. This year Henry Reed is here—he had this job, too, two years ago—and he brightens things for me a great deal. I wish you would get him to send you something for The New Yorker—I am sure he has some poems somewhere, and I think he is a beautiful poet, don't you? c/o the Eng. Dept. here would reach him.

If you can think of anyone else who might like it—Anthony Hecht?—you might let me know—The biggest drawback is that one has no time for one's own work, or I don't—perhaps someone more experienced at "teaching" would. (I feel a complete fraud as far as teaching goes.) May has a job for next year or I might suggest her. Who else?

I hope you are well and cheerful—and I hope to see you in New York sometime before I retreat to the other side of the Equator again—

With love,
Elizabeth